Film Location Rentals
Please direct all questions to the casting agency email provided.
CASTING NOTICE: Commercial to be shot in greater Charleston WV region seeking actors for paid, non-speaking roles and background extras. Seeking Caucasian, African-American, and Hispanic females and males, ages 18-40 as well as children ages 5-11.
If interested in being considered, please immediately submit current photo of yourself (no later than Saturday morning, Oct. 1) to cjcasting@gmail.com and type "WV COMMERCIAL" in Subject Line. Anticipated filming dates are Oct. 11-13. Please direct ALL questions directly to the casting agency's email. No phone calls, please.
Brought to you by: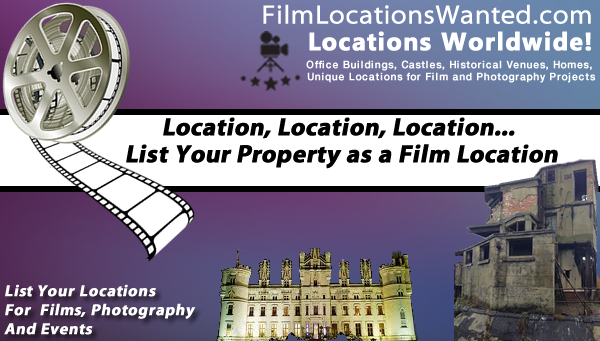 About FilmLocationsWanted.com: 
A film, photography and event  location rental resource for those seeking a venue for a project. Locations on the site are listed by owners worldwide who want to host production on their property.
We encourage listings worldwide, so you never know what you can find on the site.
To search location rental availability, simply log on to the web site and search by city, state category. If you are in a hurry, submit a quick inquiry form and we will take it from there to post on the site and contact our film community with your needs.
There are no fees, production and owner negotiate personally.
So check it out and review castles and mansions in Scotland to warehouses or historical landmarks in the U.S.